reasons why Rotterdam may be Europe's new capital of cool
Updatetime:2017-03-01 21:40:09
|
Hits:1
There are free outdoor art galleries
Art fans don't need to enter a museum to view art in Rotterdam.
Stroll around the city and giant sculptures are in eyesight.
Pablo Picasso's 46 ton "Sylvette" sits at the intersection of Museumpark and Westersingel, forming part of a sculpture route that runs alongside Rotterdam's Westersingel canal.
Auguste Rodin's "L'homme qui marche," a headless, armless sculpture of a walking man, returns in March after being loaned for display in Wuppertal, Germany.
Sculpture International Rotterdam curates the Westersingel Sculpture Route and public artworks dotted around Rotterdam.
It's got a mind-blowing market hall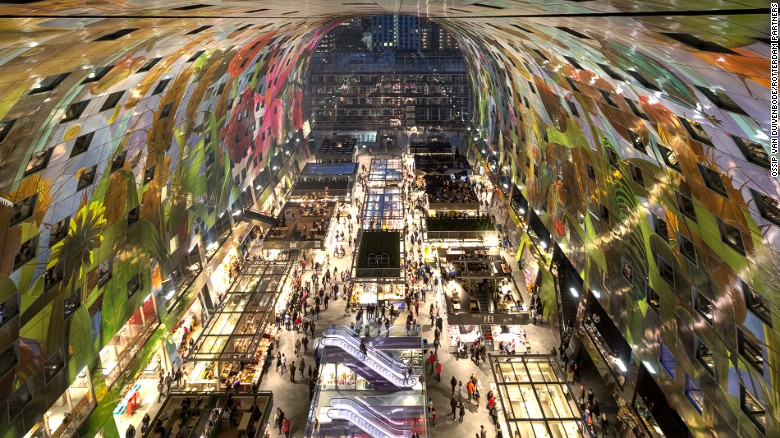 Fruit and vegetable market or portal to another universe?
Rotterdam opened the Markthal, a covered market hall and apartment complex in October 2014, giving the city a radical landmark to draw visitors.
Apartments arch above 96 stalls selling everything from Dutch cheeses to fresh fish, and many other local food and drinks.
The ceiling of the Markthal bears the world's largest artwork.
Spanning over 13,000 square yards, the "Horn of Plenty" by Arno Coenen is a colorful art piece depicting fruit tumbling from a summer sky, grazing cows and flowers.
The artwork's panels help lower sound within the market hall.
Markthal Rotterdam; 298 Ds. Jan Scharpstraat, Rotterdam
And the best new cocktail bar in the Netherlands
Cocktail-lovers should head straight to Stirr, which was named the Netherlands' best new cocktail bar in the 2016 Esquire awards.
Mustachioed mixologists stand ready to create drinks tailored to any tastes.
They utilize the venue's own liqueurs, bitters and syrups.
With exposed brickwork and hip hop music, Stirr offers a new scene in a city where dockworkers and industrial workforce have traditionally favored beer over cocktails.
Stirr, 29b Eendrachtweg, Rotterdam
There's district that's actually called Cool District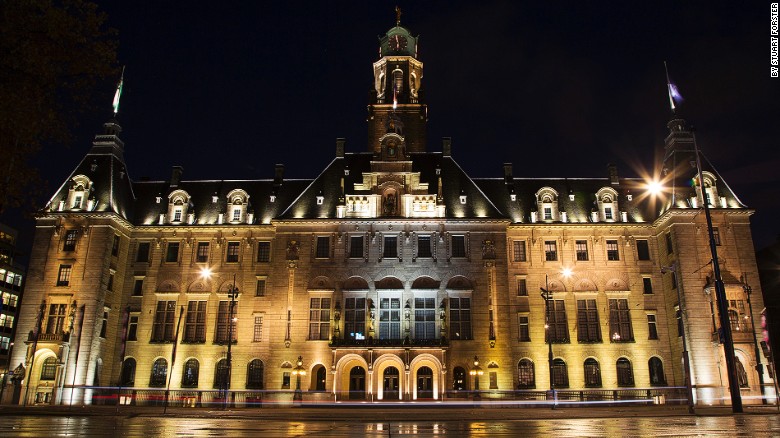 Rotterdam's City Hall sits on Coolsingel in the Cool District.
Many cities have quarters that are widely regarded as cool but Rotterdam can claim, literally, to have a Cool District.
Pronounced 'coal' in Dutch, the district was a separate municipality to Rotterdam until 1816, and is now peppered with high street stores and restaurants.
Plans are afoot to redevelop "Coolsingel", the broad street that runs in front of Rotterdam's city hall, by 2020.
Traffic flow will be reduced, and pedestrians and cyclists will have more space when the project is complete.
Its citizens want to surf
In recent years, Rotterdam has asked its citizens to help change the city.
Residents have suggested projects to receive funding, then had a vote to choose the most popular.
One scheme, proposing an area for urban surfing at Steigersgracht, next to the Markthal, hit legal challenges but looks set to open in 2017.
The Luchtsingel, a 1,280 foot long pedestrian bridge linking the central station with Rotterdam's northern district, opened in 2015.
Crowdfunding, sourced by inscribing names on the bridge's wooden planks in return for a donation, helped raise revenue to construct the yellow Luchtsingel.
Luchtsingel, 189 Schiekade, Rotterdam
It's got accessible nightlife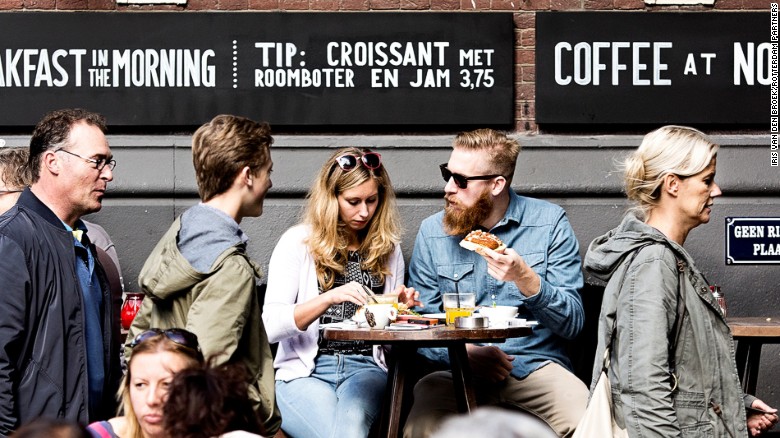 Alfresco dining and drinking in Rotterdam's buzzing Witte de Withstraat.
A number of bars, cafes, and restaurants operate on Witte de Withstraat, the buzzing street at the heart of Rotterdam's nightlife scene.
A smattering of art boutiques, including Gallerie Ecce and Gallerie van Eijck, give the area cultural credentials.
If the weather's nice, seats are set out on the sidewalk in front of bars such as De Witte Aap.
Ballroom -- named after bitterballen, a traditional, deep fried Dutch snack -- makes unconfirmed claims to having the world's widest selection of gin and tonics.
Ballroom; 88b Witte de Withstraat, Rotterdam; +3110 341 2029
There's interesting stuff happening with mushrooms
Folks in Rotterdam don't just talk about cutting back on their carbon footprint, they do something about it.
Sometimes, that something is a little unusual.
Like the team from RotterZwam, which grows oyster mushrooms using coffee grinds from cafés around the city center as fertilizer.
So far, RotterZwam has salvaged in excess of 35 tons of used coffee and produced more than 4 tons of mushrooms, which are sold and served in restaurants around the city.
RotterZwam, 100 Maasboulevard, Rotterdam
The old red light district is being transformed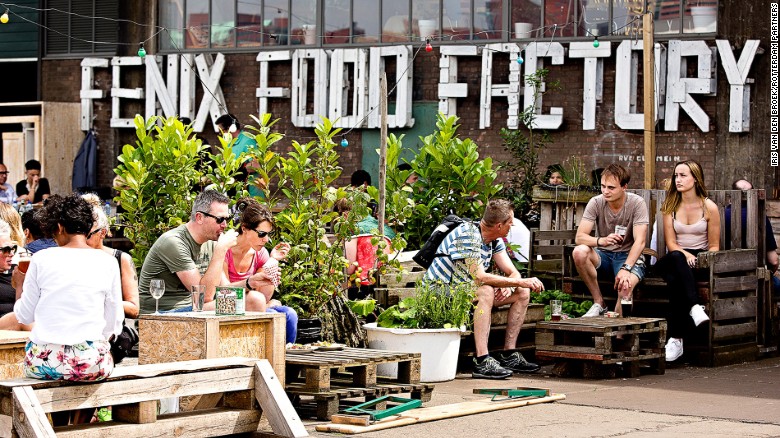 From rundown, red light district to jazz sessions and locally sourced food and drinks.
The Fenix Food Factory occupies a former warehouse in the city's Katendrecht district.
Here, young entrepreneurs sell locally sourced food and drinks, while helping to transform what was long a rundown, red light district.
Visitors can sit in a communal area at the center of the building or on seats overlooking the waterfront.
The Kaapse Brouwers brewpub hosts live jazz sessions on Fridays and Sundays.
Fenix Food Factory, 19d Verlaan, Rotterdam
Everyone's growing vegetables
At a time when many urban youth are clueless about where food comes from, Uit Je Eigen Stad gives young people in Rotterdam a chance to try their hand at farming.
The initiative, whose name means "from your own city," is based on a formerly rundown dockland in the city's western suburbs.
Vegetables harvested from the urban farm are served in at the on-site restaurant, and a café/shop at Rotterdam's central train station (24ab Proveniersplein).
City rooftops are also being used to grow fruit and vegetables, in environmentally conscious efforts to reduce food transport.